Getting into Bhutan

---
Travel by air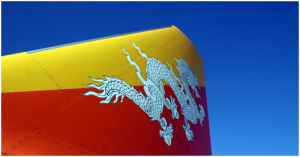 Today, Bhutan's national air carrier, Druk Air, operates several flights per week from Bangkok, Delhi, Kolkata And Kathmandu to Paro. The modern Airbus A-319 jets carry passengers through one of the most spectacular flight paths in the world. A particular highlight is the stretch between Kathmandu und Bhutan, where one passes 4 of the 5 highest mountains in the world. Weather permitting; passengers will be treated to intimate views of Mt. Everest, Lhotse, Makalu und Kangchenjunga. Landing in the Paro Valley, surrounded by 4000 meter high mountains stretching across the west of Bhutan, means a visual landing is the order of the day.
Current flight schedules for Druk Air are available at www.drukair.com.bt
Travel by land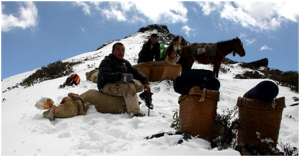 The town of Phuentsholing in south-western Bhutan is currently the only land border access open for international tourists. Phuentsholing lies approximately 170 km east of the Indian national airport Bagdogra, nearby historic Darjeeling. From here begins a mountain journey of almost unbelievable beauty. The road leads from the northern Indian tea plantations through endless turns, hair-pin bends and daring stretches carved into the mountain rock via Chhukha to Thimphu. The travel time for the 175 km stretch can be more than 7 hours.
A combination of overland and air travel is also possible. All overland travel requires an Indian visa.
Traveling within Bhutan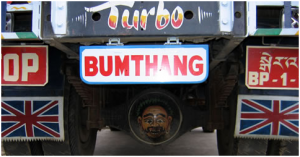 With the exception of the Gasa district, all major towns in the 20 districts of Bhutan are accessible by road. Despite high mountains, steep slopes, and the deepest of valleys Bhutan has a relatively well developed network of roads. That said, rarely will one find a length of either straight or flat road. In some stretches one can encounter 6 to 7 bends per kilometre! Steep ascents and descents are characteristic of road travel in Bhutan and this can make travel much slower than one may be used to. Average speeds for road travel rarely exceed 30 km/h, with tourist buses making even slower progress. One is however handsomely rewarded for the long and sometimes tiring car journey, by the spectacular views of towering mountains, lush green jungle, ancient villages and majestic monasteries.
The majority of roads are sealed but can still be bumpy and are almost always single lane. Bhutan's drivers know their land well and are cautious and careful drivers. The density of traffic is normally very low.
| | | |
| --- | --- | --- |
| From – To | Distance | Travel Time |
| Thimphu – Paro | 65 km | 1 hr 30 min |
| Thimphu – Phuntsholing | 176 km | 6 hrs |
| Phuntsholing – Bagdogra (India) | 170 km | 4 hrs |
| Thimphu – Ha | 115 km | 3 hrs 30 min |
| Ha – Paro | 60 km | 2 hrs 30 min |
| Thimphu – Wangdue Phodrang | 70 km | 2 hrs |
| Thimphu – Punakha | 77 km | 2 hrs 15 min |
| Punakha – Wangdue Phodrang | 21 km | 30 min |
| Wangdue Phodrang – Trongsa | 129 km | 4 hrs |
| Trongsa – Bumthang | 68 km | 2 hrs 30 min |
| Bumthang – Mongar | 129 km | 4 hrs |
| Mongar – Trashigang | 90 km | 3 hrs |
| Trashigang – Trashi Yangtse | 55 km | 2 hrs |